PTA - Ink Cartridge Recycling
PTA - Ink Cartridge Recycling
5 March 2021 (by admin)
The PTA are taking part in a scheme raise funds for our school through recycling used ink cartridges.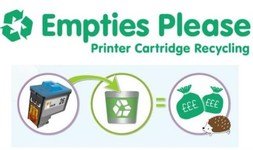 Working in conjunction with a company called 'Empties Please' we can raise funds for our school by collecting and recycling used ink and toner cartridges.
All we have to do is collect used ink cartridges and put them in our recycle bin then 'Empties Please' will collect the bin when it's full and donate money raised straight back to our school.
Next week there will be a recycling bin located in the school playground at pick up and drop off times. The bin will be clearly labelled and will be located close to the main entrance.
Please don't put empty ink cartridges into the post they must come back to the recycle bin at school.

To view a full list of the empty ink cartridges and original branded toners that 'Empties Please' can recycle, please click on the link below, or go to the Parents - Letters Home Page. If your toner is not listed on here, we recommend contacting the manufacturer who may have a recycling scheme of their own.
List of Cartridges/Toners accepted

You can collect ink cartridges from absolutely anywhere; school, work, home, clubs, friends and family.
If you could display a bin in your workplace on behalf of our school please contact 'Empties Please' on 0844 879 7179 or email info@emptiesplease.com. Please make sure you provide our school's name so proceeds are credited to us.

The more cartridges we can collect the more we can raise. The sky's the limit! Let's make it a great
success.
Happy collecting!