PTA Doughnut Day - Friday 26th May 2023
PTA Doughnut Day - Friday 26th May 2023
16 May 2023 (by admin)
Once again the PTA will be selling Krispy Kreme signature original glazed doughnuts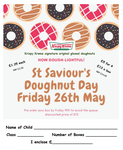 Doughnuts will be sold at 3:15pm on our last day of term Friday 26th May.
Krispy Kreme glazed ring doughnuts are £1.25 each, £5 for 4 or £13 for a box.
Pre-orders on boxes only, why not beat the queues and pre-order a box for the reduced price of £12!
If you would like to pre-order we must receive orders before 3:15pm this Friday 19th May. Send your orders into school in a sealed envelope marked for the attention of the PTA – Doughnut Day and include your child's name, class, how many boxes and the correct money(change cannot be returned).
Thank you