A Message from the PTA
A Message from the PTA
4 April 2023 (by admin)
Thank you to all our volunteers & sponsors this year we have raised a total of £7863!!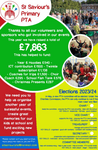 This fantastic amount has helped to fund: -
Year 6 Hoodies £540, ICT contribution £1500, Twinkle software subscription £1138, Coaches for class trips £1500, Coaches for Choir trips £295, School Fish Tank £576, Class Christmas Presents £287.
We need you to help us organise another year of successful events, create great memories for our children and fund some exciting new projects.
In May a new PTA committee will be elected. Under the Charities Commission, the PTA can only continue to run if the main roles are filled, these include the Chair, Vice Chair, Treasurer, Secretary.
If you would like to know more about the roles, join the PTA as a committee member or just find out a little more about what we do, please get in touch via stsaviourpta@hotmail.com
Thank you