Krispy Kreme Doughnuts Sale
Krispy Kreme Doughnuts Sale
6 May 2022 (by admin)
Friday 27th May 2022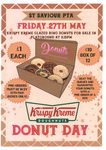 The PTA will be selling Krispy Kreme Glazed Ring Doughnuts, as they did last term, on Friday 27th May from 3:15pm on the school playground. £1 each, or £10 for a box of 12.
Due to the high demand last time, parents are able to pre-order beforehand.
Pre-Orders are for boxes only - £10 for box of 12 doughnuts
Order Forms can be found on the school website under the Parents Letters Home Tab
Pre-Orders must be with school no later than 3:30pm on Friday 13th May, in a sealed envelope marked 'PTA Donut Sale' with the correct money and an order form/instruction which includes all the following details.
Child's Name, Child's Class, Number of boxes required, Total Amount Enclosed £