RSE + PSHE
At St Saviours, we have always recognised the crucial role PSHE (Personal, Social and Health Education) plays in the education and wellbeing of all our children. It has always been an integral part of our curriculum, taught both as stand alone sessions and through cross curricular learning.
From September 2020, we will now also be delivering the governments new statutory Relationships and Sex Education (RSE) and Health Education. This new curriculum will be delivered within PSHE lessons.
In order to ensure that all the statutory requirements are covered throughout school in a sensitive and age appropriate way, we are now going to be following an online scheme of work, provided by 'Coram Life Education' called 'SCARF' (Safety, Caring, Achievement, Resilience, Friendship). This scheme does not only ensure that the statutory objectives are taught but also combines them with additional PSHE objectives, ensuring our children are given the tools to become, life long learners and acquire personal skills and attributes to help them in their future lives.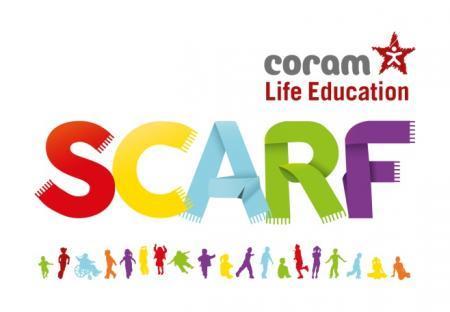 Another reason behind our choice in following the 'SCARF' curriculum resource, is their understanding of Christian values. Coram Life Education states:
"The RSE elements of SCARF are based on the SCARF values of Safety, Caring, Achievement, Resilience and Friendship. We believe that all children deserve to be safe, cared for and to learn the skills they need to develop healthy relationships. We feel there is a natural fit between these values and the ethos of schools with a religious character."
Further down this page you will find further details about our curriculum and links to more detailed breakdowns of expectations and objectives.
Policy + Curriculum Documents.
We have written a new draft RSE + PSHE Policy. This was open for consultation with parents between 21.9.20 - 9.10.20. Following the consultation period, governors ratified the finalised policy. The link below will take you to the finalised policy:
RSE + PSHE Policy - October 21
Thank you to parents who completed the consultation questionnaire. 95 families returned the form which was excellent. The link below will take you to the a document outlining the feedback from the consultation:
The curriculum map, which is linked below, outlines all of the statutory RSE objectives and illustrates where they are covered through school. The session names refer to the SCARF lessons. The RSE objectives are required to be taught by the end of primary, therefore this curriculum map demonstrates how the teaching of these objectives will be progressive through school. They will also be covered in a sensitive, age appropriate manner. At the bottom of this document, you will find an overview of which half term, each lesson is being covered in.
The Coram Life Education 'SCARF' website that we use is password protected, however, there is a section called 'About Us' which introduces the work they do and the research behind their scheme and what they provide to schools.
Age Expectations
The downloadable documents below, have been adapted from an assessment tool that is part of 'SCARF'. They outline age specific expectations for each unit of work.
Reception SCARF lessons take into consideration the EYFS curriculum will still be assessed against 'Development Matters' and will be working towards the Early Learning Goals within the prime area of learning - Personal, Social and Emotional Development.
| Name | |
| --- | --- |
| Year 1 Age Expectation Descriptors.pdf | Download |
| Year 2 Age Expectation Descriptors.pdf | Download |
| Year 3 Age Expectation Descriptors.pdf | Download |
| Year 4 Age Expectation Descriptors.pdf | Download |
| Year 5 Age Expectation Descriptors.pdf | Download |
| Year 6 Age Expectation Descriptors.pdf | Download |
Showing 1-6 of 6
Healthy Eating.
Healthy lifestyles and healthy choices is a part of the PSHE and Health Curriculum.
Below is a link to our school 'Packed Lunch Guidance' document and a document from the 'Children's Food Trust', that can help make good food choices.
Packed Lunch Guidance Document
Photographs from Around School.
The slideshow below contains a selection of images from around school, celebrating PSHE. Our school Twitter feed is also a rich source of images which allows you to see the rich curriculum that the children are offered.