Class 5 Photographs 2016-17
We have been celebrating World Book Day today in Class 5 and have been doing lots of book related activities all about Harry Potter. We really hope that it has inspired more reading at home as it has in class. Take a look at our fabulous costumes!
We have been to Stockport Air Raid shelters today (14.2.17) to help bring the learning we have done on WW2 to life! We got to experience what it would have been like to 'make do and mend', have a gas mask drill and see what a night in the shelters would have been like. Take a look at the pictures of our great day out!
We did our Advent service in class today (5.12.16). It was great to see so many parents supporting us. Here are some of the pictures.
We had a great time at the World Museum in Liverpool. We found out lots about the Egyptians and even had a go at mummification! Take a look at some of our pictures.
This week (wc 7th November) it has been multi-faith week in school. Year 5 have been looking at Buddhism and we have done lots of activities to help us find out about it. We have done drama, made board games, lanterns and shared our knowledge with Year 6. Take a look at what we have been doing.
We have been learning an important skill in Year 5 - how to be safe on the road when riding a bike. We spent the morning in our playground learning essential skills before going out on the road to get some real life experience! Take a look at what we have been doing.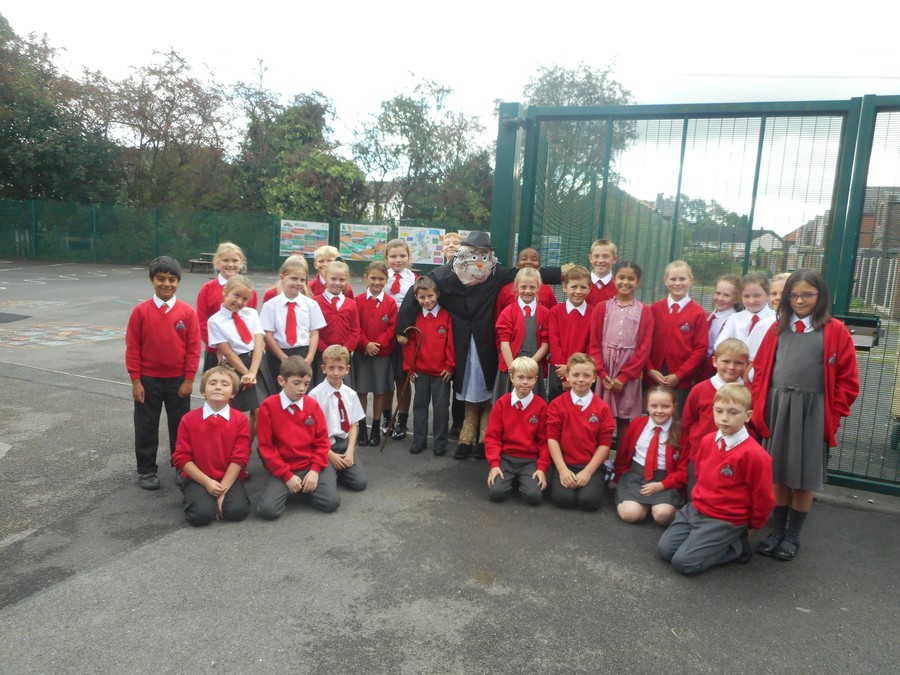 We have been very busy this week creating our scarecrow for the festival. We have made Grandpa Joe to take part in our Charlie and the Chocolate Factory scene. We think he looks great and would make a good addition to our class. What do you think?
We have had a great day today celebrating Roald Dahl Day! We designed our own quiz and tested everyone's Roald Dahl book knowledge, created our own gobblefunk words just as Roald Dahl did and joined in with the live streaming of the Roald Dahl Virtually Live show - where we got to draw along with Quentin Blake and debate the worst Roald Dahl villain! We also created our own unique character name that we could be called in a Roald Dahl book. Take a look at some of the pictures of our crazy names for the day!